Ms. Weber joined the Brown University community in March 2020, having spent her career focused on helping people navigate their way through conflict in a variety of settings. She is an experienced ombuds, who is a Certified Organizational Ombuds Practitioner, CO-OP®, by the International Ombuds Association (IOA). She is also an active member of the IOA, where she serves on its Strategic Alliances and Partnerships Committee.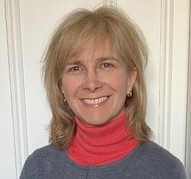 Additionally, Ms. Weber is a trained mediator.
Prior to coming to Brown, Ms. Weber served as the College Ombuds at Montgomery College in Maryland. There, she regularly worked with staff, faculty, and administrators in conflict, coaching, facilitating conversations, mediating disputes, giving referrals, training, providing upward feedback, and making recommendations for positive change. At Montgomery College, she also was invited to sit on multiple committees as a non-voting member on matters related to conflict management, equity and inclusion, ethics, civility, employee engagement, performance management, and professional development.
Before becoming an ombuds, Ms. Weber worked in a variety of roles, including serving as: an HR manager, overseeing compliance and employee relations matters; as a lawyer, representing both plaintiffs and defendants in employment, education, and health care matters; and as a policy specialist, focusing on legislative and corporate policies that impact working families.  
Ms. Weber holds a bachelor's degree from Columbia University, where she graduated cum laude. She also holds a Juris Doctor from Boston College, where she was selected to receive several awards upon graduation, including the Susan Grant Desmarais Award for Public Service and Leadership.